The best bars in Stratford, London
"Do you know a cool bar close by?"
Could you answer confidently and match someone to a watering hole that suits their taste? It's knowledge that only comes from knowing an area inside out. When you feel like a true local, someone who's integrated into the place where they work, live or play.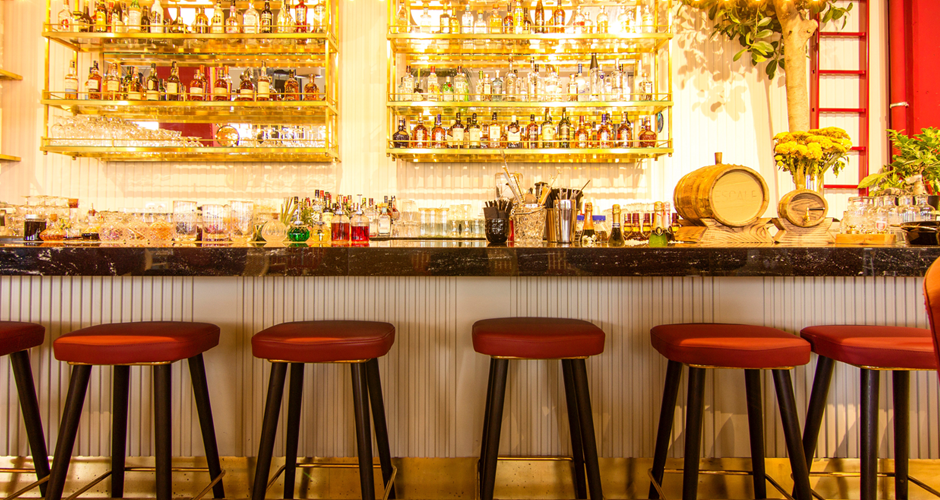 Well – we've done a bit of the legwork for you and listed some of our favourite Stratford pubs and bars. So, if it's dinner with friends, a few 5pm drinks with colleagues or a Saturday lunch date – you can work through the list and discover the coolest Stratford pubs.
Outpost
What does Outpost offer?
Located right here at IQL, OutPost East Bank is more than just a local hangout, it is also a lively bar and restaurant. Whether you're in the mood for a delicious stone-baked pizza with a refreshing beer or classic Italian cocktail, OutPost has got you covered.

Enjoy a relaxed atmosphere to unwind after a long day at work, or consider OutPost's event spaces to hire, such as their cosy Library and bright Garden Room.

On Friday and Saturday nights, local DJs take to the decks, transforming the space into the perfect location for a big night out. Whatever your occasion, OutPost has something for everyone. To see everything on offer, visit their website here.
Roof East
What is Roof East ?
Roof East is a rooftop bar and community space in Stratford, London offering an open air cinema, curling and bowling lanes and street-food outlets. You'll find it above the Stratford Shopping Centre.
Around every corner there's something bright and visual, and a busy calendar of events means no two visits are ever the same. Check out their website to see what's coming up.
Where is Roof East Stratford?
Roof East Stratford is located at 7 & 8 Stratford Multi Storey Car Park, Great Eastern Rd, London E15 1BB. Roof East Stratford is just a 6 minute walk from Stratford station.
Does Roof East Stratford serve food?
Yes! Roof East Stratford showcases some of London's most popular street-food outlets as well as offering cocktails, beers, spirits and wine. The street-food outlets also offer vegetarian and vegan dishes.
When is Roof East Stratford open?
Roof East Stratford opens for the summer months in mid April. Roof East will close again for the season around the 21st December.
The opening hours may vary:
Monday: Closed
Tuesday: Closed
Wednesday: Closed
Thursday: 5pm - 11pm
Friday: 5pm - 11pm
Saturday: 12pm - 11pm
Sunday: Closed
Alfred Le Roy
What is the Alfred Le Roy London?
The Alfred Le Roy London is a functioning canal boat that journeys through the canals of Hackney Wick and Stratford whilst serving great cocktails and food boards. It offers public and private cruises throughout the year.
Book your ticket on their website or if you've got something coming up, take a look into private hire.
Where is the Alfred Le Roy London?
The Alfred Le Roy London moors at Canalside Mooring 7 Queens Yard, White Post Ln E9 5EN.
When is the Alfred Le Roy London open?
The opening hours may vary and will be determined by your booking:
Monday: Closed
Tuesday: 6pm - 11pm
Wednesday: 6pm - 11pm
Thursday: 6pm - 11pm
Friday: 6pm -12am
Saturday: 12pm - 12am
Sunday: 12pm - 10.30pm
Is the Alfred Le Roy London vegan friendly?
The Alfred Le Roy London offers a variety of food platters including a cheese, meat or vegetarian option.
They also offer a classic cocktail selection with a few wilder options thrown in for the adventurous. Spirits, beer, wine and soft drinks also available.
Pitch
What is Pitch Stratford?
Pitch Stratford is a live music venue offering an eclectic range of acts and established DJs for evening entertainment. The outdoor cinema at Pitch shows weekly screenings of cult classics, big hits and major sporting events.
Where is Pitch Stratford?
You'll find Pitch Stratford at 2 Bridge Rd, London E15 3FF. It's just a 5 minute walk from Stratford station.
When is Pitch Stratford open?
They're open Monday to Friday from 4pm-11pm, midday-11pm on the weekends – all the way up to October 2019 when they will close for the season.
Is Pitch Stratford vegan friendly?
Pitch Stratford offers a variety of food options, including vegetarian and vegan choices. They are constantly expanding their vegetarian and vegan selection.
Cocktails have a tiki twist and every day you'll find a range of food pop-ups from across London. See what's on or view our full list of bars in the local area here.