East Bank
Stratford is a great place to work, because it isn't just about work. People come here to live, learn, compete, cheer and shop in a powerhouse of culture and learning.
East Bank alone has already attracted creative institutions like the BBC Music Studios, V&A East, London College of Fashion and Sadler's Wells. Meanwhile, resident organisations like Cancer Research and British Council prove it's an exciting place to set up shop.
There's a different feel here. A definite contrast to other neighbourhoods across London, but still awash with the culture which will always define the capital.

UCL
Open now
UCL East is the newest chapter in the disruptive thinking of UCL and the biggest development in its 200-year history. Open since Autumn 2022, the campus offers exciting new degrees and the scale and space needed to tackle the biggest challenges facing the planet.
London College of Fashion, UAL
Open now
Finding a home on the riverbanks of the UK's newest cultural quarter, UAL's London College of Fashion campus is intent on making the most of the area's emerging collaboration between the arts, learning and creativity. As well as a stunning, new building, the move aims to bring students, staff and alumni closer to local, national and international partners, finding influence in both the nearby area and its rich diversity.
As of September 2023, the building will be hosting its first round of students.
Sadler's Wells
Opening 2024
Opening in 2024, Sadler's Wells East will become a hub for creativity — a new cultural destination with local roots, national impact and global perspectives. With a 550-seat flexible theatre, six studios for creating and developing dance productions and a public performance space in the large-wrap around foyer, it will finally provide artists and community groups with all the space they need to develop, train and perform.
V&A East
Opening Spring 2025
V&A East builds on the V&A's long-standing heritage in east London and its founding mission to make the arts accessible to all. Across two sites — the Museum and the Storehouse — it will become a campus of creative excellence, equipping young people with the knowledge and skills they need to flourish creatively, and providing makers, artists and designers with a platform to share their diverse, global stories.
The Museum is set to open in Spring 2025, with the V&A East Storehouse — an immersive, public hub and care facility for the V&A's vast collections — opening a year earlier in 2024 with a monumental David Bowie exhibition.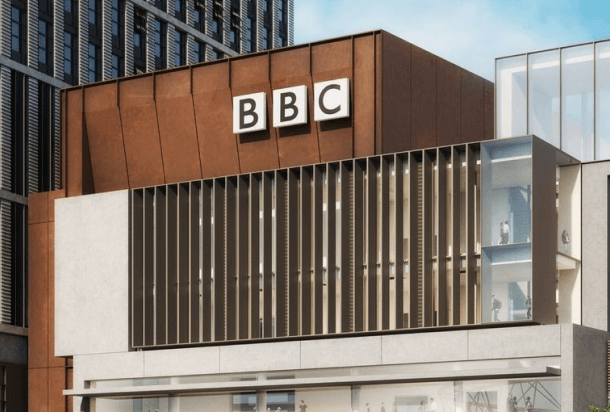 BBC
Opening 2025
A purpose-built base for the BBC Symphony Orchestra & Chorus and home to Radio 1 Live Lounge and BBC Proms, the new East Bank site will incorporate state-of-the-art music recording and rehearsal studios to reach audiences in new ways. It will also host all of the BBC's music education and outreach programmes, working alongside schools to inspire local talent on their very own doorstep.
The new home of live music is scheduled to open in 2025, ready to create the soundtrack for a new century.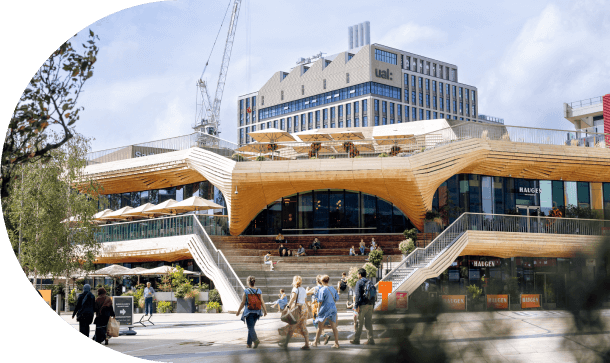 Stratford Cross
A five-minute stroll from some of the capital's greatest experiences, there is no limit to what you can do in London's newest neighbourhood.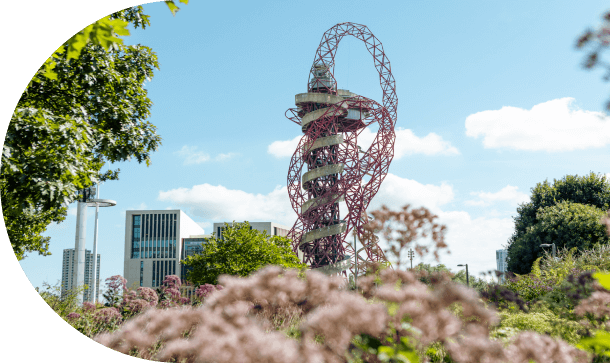 Queen Elizabeth Olympic Park
From idyllic riverside lawns and wetlands teeming with wildlife to award-winning gardens and imaginative playgrounds, 560 acres of beautiful parkland provide the luxury of space.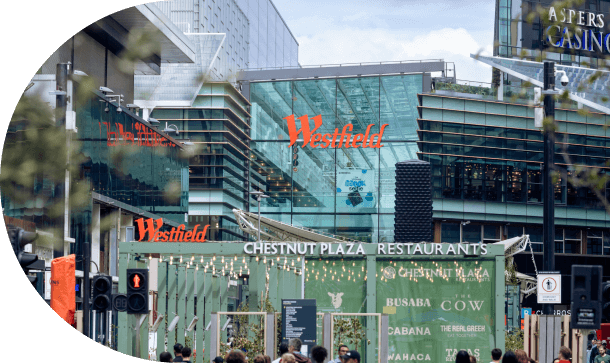 Shopping & More
With a vast array of shopping, dining and art, all sitting opposite Westfield Stratford City — and over 300 food and fashion retailers — Stratford Cross is fast becoming a premier retail destination.