East London's best markets
Our city's known for its markets. But we have absolutely no doubt you'll find the best markets in East London. Drawing from a huge range of cultures and history of the city, a walk around one of East London's markets is anything but dull. Here are some of our favourites.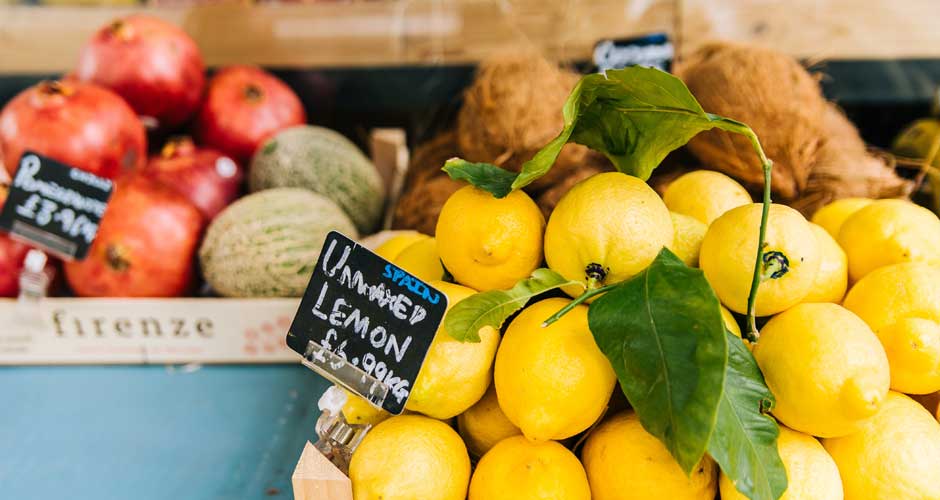 New Spitalfields Market
The UK's leading market for fresh produce and exotic fruit and vegetables, you'll find New Spitalfields Market in Leyton. The market moved from its joint location with the Old Spitalfields Market to give stall owners more room to grow and trade.
The New Spitalfields Market is known for quality produce and features a huge range of stalls. So, if you're looking to try a more exotic recipe or taste something new, there's one place where you'll certainly find what you need.

You can find the market at 25 Sherrin Road, Leyton. But burn the midnight oil to pay it a visit – it opens overnight. For all the info visit the New Spitalfields website.

Fun fact: The Grade II listed building that previously housed Spitalfields Market has had a market? on site for over 350 years.



Roman Road Market
Roman Road Market is especially known as one of the London street food markets offering up a range of tasty eats. One for an authentic London day out with friends, Roman Road Market is filled with fab fashion finds and quality homeware, as well as the top notch street eats.

Popular stalls include Sweet Treats, Stuart's Fabric Stall, Andy the Donut Man and end of line French Connection and Topshop stalls.

You can find the market from 10am – 3.30pm Tuesdays and Thursdays, and 9am – 4pm on Saturdays. Find out more about the Roman Road Market, Bow via their website.

Fun fact: The "Roman Road" where the market is located, was famously walked by Boudicca as she marched to take on the Romans in Londinium.


Walthamstow Market
This street market in London features an eclectic mix of classic, market produce. Fruit, veg, clothes, bags and household goods are present in abundance. On Saturdays, you'll also find antiques, handmade crafts and street food.

On Sundays, there's a Farmers' Market in its place, selling exceptional produce from farms surrounding the city. If you're looking for a special Sunday dinner, you'll find the freshest seasonal goods on offer.

The market runs Tuesday to Friday from 8am – 5pm, and Saturday from 8am – 5.30pm. Everything you need to know can be found at the Waltham Forest website.

Fun fact: Walthamstow Market is Europe's longest outdoor street market, spanning a kilometre of Walthamstow High Street.



Queens Market
Another market with a diverse range of stalls, you'll find an unrivalled range of African, Caribbean and South Asian fresh foodstuffs. You'll also find jewellery, fabrics and kitchenware inspired by countries all over the world.

You can visit the market on Green Street, Newham from 9am to 6pm on Tuesdays, Thursdays, Fridays and Saturdays. For all the info you need, visit the Newham Council website.

Fun fact: The market hosts a range of events for the local community. These include an Easter Egg Hunt, Santa's Grotto, a Summer Festival and celebrations for Eid and Diwali.
Want to explore some other local markets? We've listed our favourite East London markets along with nearby cafes, restaurants and shops to visit along the way.